DFS NFL Research: 3 NFL Stacks to Watch for Early 2016 NFL Season
Posted on
July 18, 2016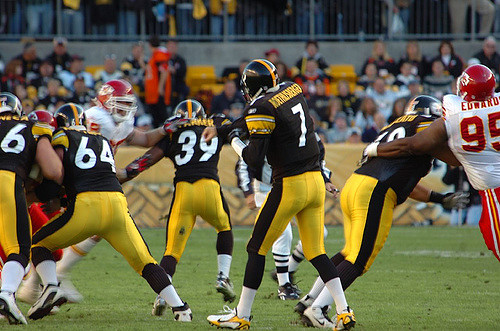 Here at RotoQL, we strive to offer you the best information possible, including our real-time daily fantasy NFL optimizer, lineups and DFS strategy videos to provide you with the greatest chance at succeeding in daily fantasy sports. That is why we have partnered with several of the top DFS NFL player projection sites in order to help you achieve this goal.
Ranking Top 3 NFL Stacks Heading Into the 2016 NFL Season
While the summertime is when baseball thrives, it is the dead-period for the NFL. Teams have finished their mini-camps, and training camp does not start until the end of July. But here at RotoQL, we believe it's never too early to start talking about football. Throughout the summer we will be previewing the upcoming NFL season. Today we will explore the top NFL stacks heading into the 2016 NFL season.
Pittsburgh Steelers
QB Ben Roethlisberger, RB Le'Veon Bell, WR Antonio Brown
Picking the top team on this list was difficult, but at the end of the day, I had to go with the Steelers. Pittsburgh got hit with the injury bug last season, with Roethlisberger missing four games and Bell appearing in only six games. Yet even with these two missing significant time, the Steelers still had one of the most dangerous offenses in the NFL in 2015 (Pittsburgh was third in yards per game and fourth in points per game). The play of star wide receiver Antonio Brown more than made up for the absence of their starting quarterback and running back. Brown ended the season with an astounding 136 receptions (tied for most in the NFL) for 1,834 yards (second-highest total in the league) and 10 TDs. Over the past few seasons, Brown has solidified himself as one of the best (if not THE best) wide receivers in the league. It certainly helps having Roethlisberger as your quarterback. Even with missing four games in 2015, Big Ben still threw for almost 4,000 yards (3,938) and 21 TDs, while finishing the season with the highest completion percentage of his career (68.0%).
The one knock on Roethlisberger is his injury history. It seems like every season, the quarterback is dealing with various injuries. However, Roethlisberger has a history of playing through injuries and still being an incredibly efficient quarterback. Add in a healthy Bell at running back and this offense seems unstoppable. Bell, when healthy, is undoubtedly a top-3 running back. With Bell's full return to the field this season, the Steelers are on track to have the most explosive offense in the NFL.
New England Patriots
QB Tom Brady, WR Julian Edelman, TE Rob Gronkowski
The top spot on this list was a toss up between the Steelers and the Patriots, but considering Tom Brady's current four-game suspension to begin the season, the Pats had to settle for number two. Brady put together one of the strongest seasons of his career last season. He started all 16 games and threw for a career-high 402 completions. He also threw for 4,770 yards, 36 TDs, and only seven INTs. His 102.2 Passer Rating was the fourth-highest of his career, and the 36 passing TDs was tied for the third-highest of his 16-year career. Brady dealt with scrutiny all season because of Deflategate, yet it did not seem to effect him at all. The 38-year old looked calm and collected throughout the season, which helped Gronkowski have another strong year.
It would be hard to argue that Gronk is not the best tight end in the league right now. In 15 games in 2016, the tight end caught 72 passes for 1,176 yards and 11 TDs. Gronk also averaged 16.3 yards per reception, more than a full yard higher than his previous career-high (15.2 in 2013). At 6'6″, 265 lbs, Gronkowski is incredibly difficult to match up with for any defender. As long as he remains healthy, Gronk should continue to be an elite tight end, and one of the biggest targets in the league. That brings us to Julian Edelman. Since entering the NFL in 2009, Edelman has played in all 16 games only once (2013). However when he has been on the field, he has proven to be a huge pain for opposing teams. Edelman finished the year with 61 receptions for 692 yards and a career-high seven TDs…in only nine games. With a full offseason to rest, Edelman should be healthy and ready to go come Week One. When all three of these players are on the field, opposing defenses must proceed with caution.
Carolina Panthers
QB Cam Newton, RB Jonathon Stewart, TE Greg Olsen
With the way the Carolina Panthers played throughout the 2016 NFL season, it would have been crazy to leave them off this list. Cam Newton is coming off a MVP season where he threw for 3,837 yards, 35 TDs, and only 10 INTs. Those stats alone are quite impressive. Factor in his 636 rushing yards and 10 rushing TDs and it's no wonder why Newton ran away with the Most Valuable Player Award. While many people will look at his performance in the Super Bowl as a reason to discredit the quarterback, one game does not ruin an entire season. You can bet that Newton will use the Super Bowl loss as extra motivation heading into the upcoming season. The biggest benefactor of Newton's stellar play was his favorite target, tight end Greg Olsen. Olsen trails only Gronk in talent at the tight end position, and his numbers last season prove that. The 31-year old tight end reeled in 77 receptions for 1,104 yards and seven TDs. Possibly the best aspect of Olsen's game is his ability to remain on the field. Olsen has not missed a game since 2007, a feat that seems nearly impossible in the NFL today. It also looks like he is getting better and better after each year, with the last two seasons being the most productive of his career (2014 and 2015 were the first two seasons Olsen broke the 1,000-yard mark).
Deciding on the third member of the Panthers' stack was tough, as both Jonathan Stewart and Kelvin Benjamin are great options. However Stewart got the nod, as Benjamin must first prove he hasn't lost a step after missing the entire 2015 season with a torn ACL. Stewart looked solid last year, averaging 4.1 yards per carry and finishing the season with seven total touchdowns. He fell just short of rushing for 1,000 yards (989), but he did that in only 13 games. Newton, Olsen, and Stewart create a very formidable trio, and with Benjamin in the lineup too, the Panthers will cause a lot of headaches for their opponents.
Use Pro Football Focus projections to create the best NFL lineups with RotoQL's real-time NFL lineup optimizer. Our premium subscription includes NFL lineup optimizer for DraftKings and FanDuel 50/50s and GPPs.