DFS MLB 1st Quarter Breakdown: Righty vs. Righty and Lefty vs. Lefty 1B
Posted on
June 8, 2016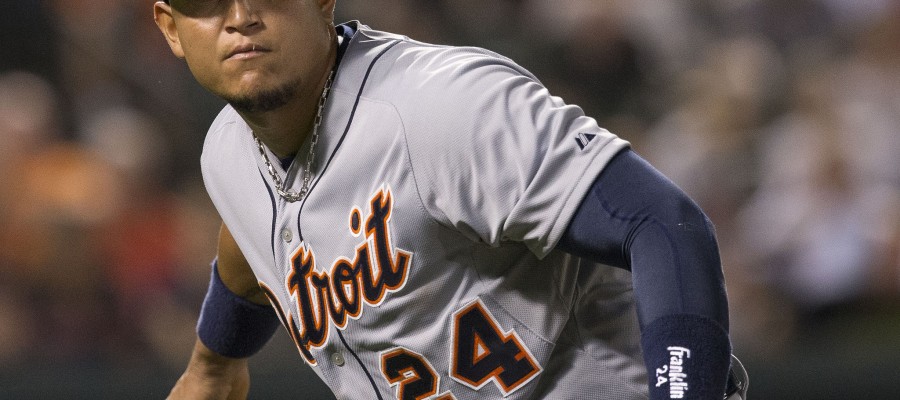 With daily fantasy baseball season finally here, DFS players wanting to use FanDuel and DraftKings MLB lineup optimizer everyday need quality information to get an edge. Knowing which players perform well against a lefty pitcher, or on a home stand, or in a pitcher's park, is critical to making quality daily fantasy decisions.
Here at the RotoQL blog we have made it our mission to prepare our users with a DFS MLB lineup advice for the start of the season and beyond.  
Consider These First Basemen When Setting Your Lineups
With a quarter of the MLB season behind us, it's time to break down the best situational hitters for each position. Today we're going to explore the top right handed first basemen vs. right handed pitching and left handed first basemen vs. left handed pitching for the 2016 season.
Right Handed 1B vs. Right Handed Pitching
Miguel Cabrera, Detroit Tigers
It should come as no surprise to see Cabrera at the top of the list of right handed first basemen. The slugger has been the best hitter in baseball over the last few years, and 2016 is no different.  Cabrera's season stats are strong, but his complete dominance over right handed pitching is what's truly impressive. The 33-year old is batting .329, and has hit 11 of his 12 HRs and 29 of his 32 RBIs against righties. He has also racked up 15 walks on the season, making his on-base percentage against right handed pitching .386. Cabrera leads right handed first basemen in almost every offensive category, and is the obvious top choice at the position.
Mark Reynolds, Colorado Rockies
While earlier in his career Reynolds was known for being a power hitter, his HR rate has slowed down over the last couple of seasons. In 2016, Reynolds has only two HRs. However, the career .232 hitter seemingly developed into an above average contact hitter this season. Overall, Reynolds is batting .305. Even though his average against right handed pitching is slightly lower (.291), it is still very respectable. Reynolds has the second highest batting average among right handed first basemen, and both of his HRs, along with 12 of his 16 RBIs, have come against righties. Although it is not the player we are used to seeing, Reynolds is still proving himself to be a valuable hitter.
Hanley Ramirez, Boston Red Sox
Similar to Reynolds, Ramirez has seemed to have changed his style of play in 2016. The former slugger, who hit 19 HRs in 105 games last year, has only four HRs this season. However, he has his overall batting average up from .249 in 2015 to .287 in 2016. Most of the damage Ramirez has done has come against right handed pitching. The 32-year old former shortstop has hit two of his four HRs and 26 of his 31 RBIs against righties. He is also second (behind Cabrera) among right handed first basemen in hits. Considering the talent surrounding him in the Boston lineup, Ramirez should see tons of scoring opportunities for the remainder of the season.
Left Handed 1B vs. Left Handed Pitching
Brandon Belt, San Francisco Giants
Belt has been by far the best left handed hitting first basemen against left handed pitching in 2016. In 54 ABs against lefties, Belt has a .315 batting average, with one HR and eight RBIs. Six of Belt's 17 hits against southpaws have been extra base hits, with two doubles and three triples to add to his one HR. Even more impressive is the 11 walks Belt has drawn, making his on base percentage .431. While he isn't a power threat like some of his fellow first basemen, Belt is one of the best pure hitting first basemen in Major League Baseball this season, as he has found success against both left and right handed pitching. On an absolute tear in the last week or so, Belt should be in your daily fantasy lineup.
Freddie Freeman, Atlanta Braves
Freeman, along with almost everyone on the Braves, has struggled this season, hitting .251 with nine HRs and 16 RBIs. However his low numbers are mostly due to his problems against right handed pitching (hitting .236 against righties). In 68 ABs against left handed pitching, Freeman is batting .279, just short of his career average of .282. The 26-year old has also hit three of his HRs and six of his RBIs against southpaws, while his 19 hits are tops among left handed first basemen against lefty pitching. His overall numbers are certainly not going to impress anyone. But, based on the pitching matchup, his stats against lefties make him worthy of a spot in your lineup.
Get these players into your MLB daily fantasy lineups with RotoQL today.
Want to learn more about building an winning DFS strategy? Check out our RotoQL University videos with Saahil Sud fka Maxdalury.