DraftKings Strategy: Best MLB Stacks – AL West
Posted on
March 31, 2016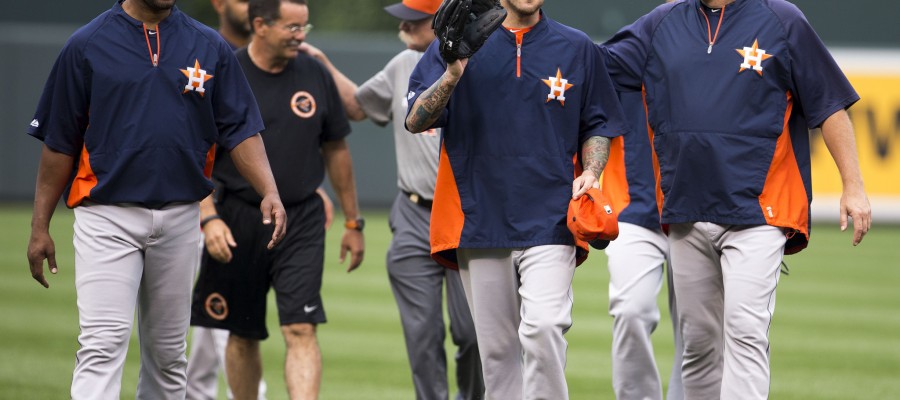 In using daily fantasy sports tools, the key to developing a bankroll is scaling winning strategies. Especially in baseball, finding optimal teams to add into lineups night after night serves as an essential part of MLB strategy.
That why we're previewing MLB teams to stack so you can have a leg up on the competition throughout the MLB DFS season. Then check out how to apply these strategies in our DraftKings and FanDuel MLB lineup optimizer. 
Stack these Houston Astros for MLB DraftKings Lineups
The Houston Astros took everybody by surprise in 2015. They came within one win of advancing to the ALCS thanks to a dynamic lineup led by young, talented hitters that can do it all. We only expect them to get better in 2016.
Jose Altuve, 2B – Altuve followed up his ridiculous 2014 season with an almost equally impressive 2015 campaign, cementing his place as one of the top second baseman in the game. Since the start of the 2014 season, the diminutive second baseman is has 425 hits. That's 44 more than the next best hitter, Dee Gordon.

 Image via FanGraphs
Additionally, Altuve has also developed some serious pop, hitting 15 home runs last season – more than doubling his previous career high of seven. Oh yeah, he's still only 25, so expect him to get even better this season.
George Springer, OF – Another one of the young stars in Houston, Springer's biggest issue thus far is staying in the lineup. The 26-year-old has all the tools that make up a great hitter and is a threat to go deep at any moment. The Connecticut native is averaging one home run every 26 at bats right now and that number should get even better if he can stay healthy for a long period of time. Springer's power does not just translate into home runs, of his 107 hits last year, 37 went for extra bases.
Carlos Correa, SS – The 2015 American League Rookie of the Year doesn't need any introduction. It is fitting that Correa wears uniform no. 1, because he is probably the best shortstop option in DFS right now and could end this season as the best player in the entire league. In just 99 games last season, Correa hit 22 home runs and 68 doubles. He also stole 14 bases and drove in 68 runs. He is the type of player to dream on, build around, and draft almost every night.
Carlos Gomez, OF – Gomez struggled a bit in 2015, but one has to wonder if that was because he had a hard time adjusting to a new team and league when he was traded from Milwaukee to Houston in the middle of last season. Gomez's numbers took a big dip in the second half and now that he will be in Houston for a full season, expect to see more of the old Gomez in 2016.

 Image via Baseball Reference
Our DFS MLB stacking strategy preview is just one part of our MLB lineup advice coverage for 2016.
Want to learn about building lineups from Saahil Sud fka Maxdalury? Check out our RotoQL University videos on stacking MLB teams.