DFS NFL Research: Top Undervalued Wide Receivers Entering the 2016 Season
Posted on
July 21, 2016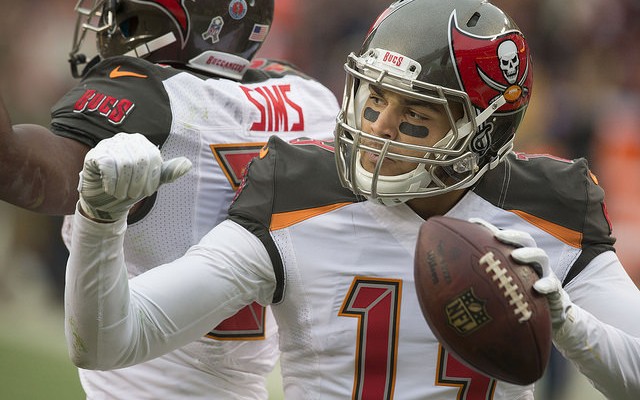 Here at RotoQL, we strive to offer you the best information possible, including our real-time daily fantasy NFL optimizer, lineups and DFS strategy videos to provide you with the greatest chance at succeeding in daily fantasy sports. That is why we have partnered with several of the top DFS NFL player projection sites in order to help you achieve this goal.
While the summertime is when baseball thrives, it is the dead-period for the NFL. Teams have finished their mini-camps, and training camp does not start until the end of July. But here at RotoQL, we believe it's never too early to start talking about football. Throughout the summer we will be previewing the upcoming NFL season and breaking down each position. We continue the conversation at wide receiver, discussing which WRs are already being undervalued heading into the 2016 season.
T.Y. Hilton, Indianapolis Colts
Hilton burst onto the scene as a rookie, securing 50 receptions for 861 yards and seven touchdowns back in 2012. Three years later, Hilton now has three consecutive 1,000-yards under his belt, along with 24 touchdowns and 283 career receptions. Hilton has quickly established himself as one of the more reliable wide receivers in the NFL, and his connection with Colts quarterback Andrew Luck is undeniable.
Yet heading into the 2016 season, Hilton finds himself outside the top-16 wide receivers in most fantasy football rankings. In 2015, Hilton caught 69 passes for 1,124 yards and five touchdowns. He did this with Matt Hasselbeck and Josh Freeman starting at quarterback for 9 of the Colts' 16 games. No offense to those two QBs but neither of them are even close to as talented as Luck. With the team's franchise quarterback healthy and ready to lead the team this season, Hilton should see an upward spike in most, if not all, of his receiving stats.
Kelvin Benjamin, Carolina Panthers
After a superb rookie season in 2014, Benjamin was considered to be one of the top up-and-coming wide receivers in the league heading into the 2015 season. However an unfortunate ACL tear ended his season in training camp, and prevented us from seeing how much better the Carolina offense could have been with their number one wide receiver on the field. After a full year of rehab, Benjamin is ready to get back on the field and show what the Panthers missed out on last year.
As a rookie, Benjamin pulled down 73 passes for 1,008 yards and nine touchdowns. In the almost two years that have passed since Benjamin recorded his last reception, Cam Newton has evolved into one of the league's best quarterbacks. Benjamin and Newton have amazing chemistry together, and everything coming out of Panthers' camp this offseason sounds like the two are ready to pick up right where they left off. Barring any injuries to either player, Benjamin will certainly outperform his preseason rank of 18th among wide receivers.
Larry Fitzgerald, Arizona Cardinals
After mediocre seasons in 2012 and 2014 (under 800 yards each season with 6 touchdowns total), many people believed Fitzgerald's best days were behind him. Well the veteran wide receiver must have drank out of the Fountain of Youth before last season because 2015 was a completely different story. Fitzgerald caught a career-high 109 passes last year for 1,215 yards and nine touchdowns. At the end of the season, Fitz found himself among the NFL leaders in each of those three categories, finishing fifth in receptions, ninth in yards, and tied for fourteenth in touchdowns.
Although he finished near the top in the NFL in some of the most significant receiving statistics, Fitzgerald finds himself barely making the top-30 WRs in most fantasy football rankings. It makes no sense. Yes, he will be 33 years old when the season begins, but Fitzgerald showed zero signs of slowing down last season. There was a great connection between Fitz and QB Carson Palmer, as it did not take long for the veteran receiver to become Palmer's go-to guy. Fitzgerald was the most targeted receiver on the Cardinals last season, and at 6'5″, don't be surprised to see the same thing happen this year.
Allen Hurns, Jacksonville Jaguars
While many players go through what is called the "Sophomore Slump" during their second season in the NFL, Hurns had a "Sophomore Surge." After recording 51 catches for 677 yards and six touchdowns in his rookie season, the Jacksonville receiver stepped his game up in his second season. Hurns finished the year with 64 receptions for 1,031 yards and 10 touchdowns (the 10 TDs tied him for 10th in the NFL). He and Allen Robinson combined to form one of the most efficient wide receiver duos in the NFL last season. With QB Blake Bortles getting another full offseason to prepare, look for the Jacksonville offense to improve even more in 2016.
Yet even with the great offensive production last season, Hurns still finds himself being disrespected by the minds behind the fantasy football rankings. Hurns is currently being listed as the No. 34 WR by most rankings. The UMiami alum will turn 25 in November, and will only continue to get better. While Hurns might be one of the most underrated players at his position, look for 2016 t0 be the season he really puts his name on people's radars.
Sterling Shepard, New York Giants
It is very tough to consider a rookie who has not played one snap in the NFL as undervalued. However if there is one player that falls into this category, it's Shepard. The rookie out of Oklahoma gets to jump directly into the middle of one of the most productive passing offenses in the NFL. Eli Manning is coming off one of his career-best seasons, and has improved each year in Ben McAdoo's offense. Heading into 2016, McAdoo is the head coach of the Giants and Manning gets another full offseason to become more comfortable in the system. And unlike other rookie receivers who are expected to lead their new team right away, Shepard has one of the best players in the NFL lining up on the other side of the ball in Odell Beckham Jr. With Beckham on the field, Shepard will never have to worry about double teams. Odell himself even predicted Shepard will win Offensive Rookie of the Year, and all reports out of camp seem to think Beckham is on to something.
Considering all of this, it's hard to list Shepard as the No. 41 WR in the fantasy football preseason rankings. He has the opportunity to step up and be the number two receiver in an already established offense (something Reuben Randle could not do), and I believe he will get the job done. Don't be surprised if you hear Shepard's name called a lot this upcoming season.
Use Pro Football Focus projections to create the best NFL lineups with RotoQL's real-time NFL lineup optimizer. Our premium subscription includes NFL lineup optimizer for DraftKings and FanDuel 50/50s and GPPs.