DFS NFL Strategy: QB Selection for Tournaments
Posted on
August 30, 2016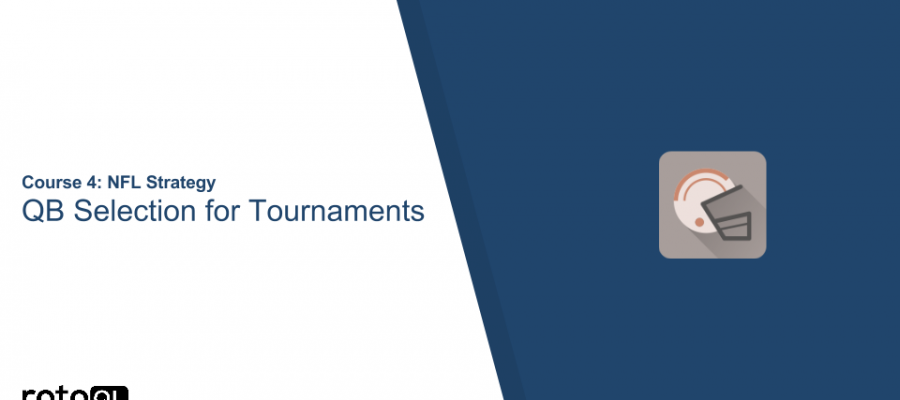 Here at RotoQL, we strive to offer you the best information possible, including our real-time daily DraftKings and FanDuel NFL lineup optimizer, NFL lineups and DFS NFL strategy videos to provide you with the greatest chance at succeeding in daily fantasy sports. That is why we have partnered with several of the top daily fantasy NFL player rankings and projection sites in order to help you achieve this goal.
NFL season is right around the corner, and that means Daily Fantasy Football is back. Saahil Sud, formerly Maxdalury, has created a strategy on how to approach selecting each position for your lineups, in both cash games and tournaments. Over the next few weeks, we will be going over these strategies in detail. First up is Saahil's strategy for how to pick quarterbacks for GPPs.
Quarterbacks are generally  going to give you the most dollars per fantasy point, while also having the least variance of all the positions. Quarterbacks have the ball in their hands every single play, which reduces their variance and generally increase their fantasy output.
Let's look at some statistical correlations from the 2013-2014 season to QB fantasy points per game. This will help us get an idea on what some of the most important stats are for quarterbacks. Looking at the chart in Saahil's NFL GPP and tournament QB strategy video, we can see that the number of passing touchdowns a quarterback throws in a game is the most important stat. Fantasy passing touchdowns are going to give you more points each than any other QB play, as it is the fantasy equivalent of throwing for 100 yards (something that is impossible to do on one single play). If you really want to have a high-scoring fantasy performance, you're going to need a lot of passing touchdowns from your QB. This means you want to look at teams that are going to throw the ball while in the red zone.
Other statistics that are important to look at are passing yards per game, the number of pass attempts per game. On the other hand, things you really want to avoid are quarterbacks that get sacked a lot and throw a lot of interceptions. One thing to note is rushing touchdowns per game has a very low correlation to QB fantasy points per game, but it is important to your FanDuel and DraftKings scores. However, predicting rushing TDs is very difficult, and there are only a handful of QBs that you can have any reasonable expectation to score a rushing touchdown.
We also must talk about the QB coefficient of variation (or CV). CV is the standard deviation of a data set divided by its mean. CVs can be used as a measure of consistency. For quarterbacks, the CV is the lowest of any position in fantasy football. This means that the QB position is the most consistent when it comes to producing points for your daily fantasy lineups.
When it comes to selecting your QB for tournaments, there are a few key elements that you must think about first. These factors are stacking, ownership, high team totals, and a few more additional factors.
Stacking QBs
Stacking in daily fantasy football means pairing your quarterback with a wide receiver or tight end from your QBs NFL team. In tournaments, quarterbacks have a high correlation with their wide receivers and tight ends. For every additional point a QB scores, a wide receiver is going to score 0.35 more fantasy points. This is intuitive because if a QB throws a touchdown, it has to be caught by somebody on his team. Same goes for if a QB throws for 50 yards, those 50 yards are going to have to be caught by someone on his team.
Looking at the stats from various stacking combinations in DraftKings' Millionaire Maker tournament from the 2015 season, we can see that the Quarterback – Wide Receiver combo is the predominant combination found in top-10 lineups, and by a large margin. The QB – TE combination is also up there as one of the most common stack combos in top-10 lineups from that tournament. Saahil does not recommend starting a QB alone in GPPs or tournaments, unless you're selecting a quarterback such as Cam Newton or Tyrod Taylor, as you can expect to get some significant rushing stats from guys like that at a reasonable frequency. But for the most part, you should focus on pairing your QB with a wide receiver or tight end from the same team.
If you look at the same stats as above, but from FanDuel's Millionaire Maker tournament from last year, you see that the QB – WR combo is the predominant combination found in top-10 lineups, and again by a significant amount.
Player Ownership for NFL QBs
QB ownership is very important when it comes to daily fantasy football, especially when playing in tournaments and GPPs. The key is to get quarterbacks that are a little less owned and may not be as much of a chalk player as other players. Vegas data is the biggest impact on QB ownership. Soft matchups are also very important. The quarterbacks with the best matchups are going to be highest owned quarterbacks, which is obviously not surprising. But when playing in a tournament, you might want to select a QB with a slightly tougher matchup since he will be owned less by others competing in the tournament. You also have to look out for value. If a QB is underpriced, he is very likely to be highly owned.
Before choosing your quarterback, take a look at the QL Wire Content, where we have different articles written by people in the industry. Quarterbacks that are mentioned frequently there, which will probably be a result of a combination of the first three factors we talked about, are going to be higher owned than those not mentioned that often.
Looking at the example in the NFL GPP and tournament QB strategy video from a week in the 2014 NFL season, we can see that because QBs only take up one spot in your lineup, it leads to a lot of varied ownership. You're not going to frequently see quarterbacks owned over 20-25%, which you may see from chalk running backs and wide receivers. The highest QB owned from this one week was Eli Manning at 15.2%. Manning was set at a very affordable price this week, and had a great matchup, which combined led to his high ownership. It's only one week so we aren't going to draw many conclusions, but we can see that outside the top 3, there aren't too many quarterbacks that are very highly owned.
Winning NFL Tournament Lineup Example
Taking a look at the example lineup from the presentation, we can see that the QB in this lineup was Ben Roethlisberger, who did not have a good matchup against the Colts yet still had a monster game. Even with the tough matchup, Roethlisberger threw for four touchdowns, a two-point conversion, 364 passing yards, and ran for 13 yards. The four touchdowns are a big reason why this lineup got such a big score, but a bigger reason was because the lineup paired Roethlisberger with Antonio Brown, his number one wide receiver. Two of Roethlisberger's touchdowns went to Brown, meaning this lineup received double the fantasy points for that one play. If this lineup didn't stack Brown with his QB, then it would not take full advantage of the good performances from both of them.
More Daily Fantasy Research from RotoQL
RotoQL offers numerous different resources to help increase your chances at winning in Daily Fantasy Sports. You can check out our video tutorials on how to use RotoQL at the Zen Desk (rotoql.zendesk.com). If you have any specific questions, feel free to email us at support@rotoql.com. Finally if you are new to DFS or just need a refresher on some of the fundamentals, visit RotoU (/university). We hope you learned from Saahil's strategy for how to pick quarterbacks for GPPs!
Make sure to check out RotoQL for daily fantasy football. Pro Football Focus projections to create the best daily fantasy NFL lineups with RotoQL's real-time daily NFL lineup optimizer. Our premium subscription includes premium insights for DraftKings and FanDuel NFL strategy.